It has arrived: Black Friday 2012! Are you going to brave the insanity at the brick-and-mortar stores today or stay at home and relax and shop online? Take a guess which one I prefer...
But not all of the bargains today are for TV's, Video Game Systems, and Toys. Did you know some of the best prices ALL YEAR for Digital Scrapbooking Supplies are available today? And the best part- no lines, no grouchy aggressive people, and no stores running out of the one item you want to buy!
You are going to be making a lot of terrific memories this holiday season and in 2013- NOW is the time to stock up and build your scrapbooking stash so you can record those great moments!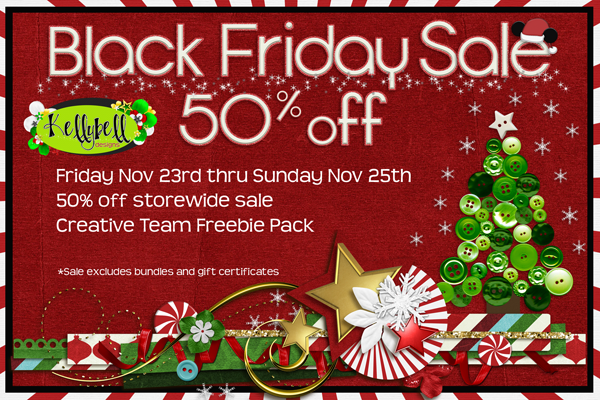 Be sure to stop by Kelly's Sale this weekend, you don't want to miss the Creative Team Freebie Pack, one of those super cool freebies is from me!
You also don't want to miss October's big Black Friday savings! But you have to hurry- it's only today!
Check out the totally terrific sales at my favorite stores today! Have fun shopping, I know I will!